Call us at +39 0957723235 or +39 3201147394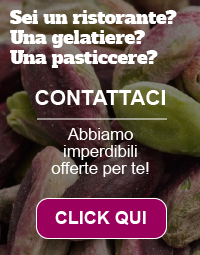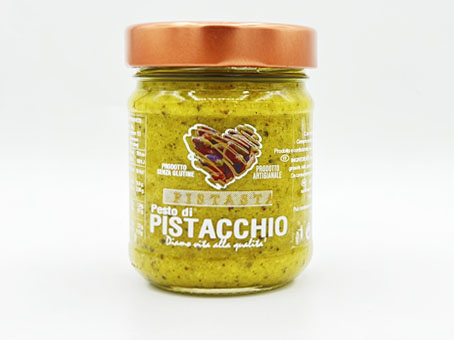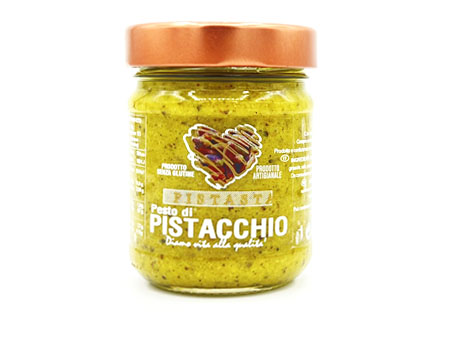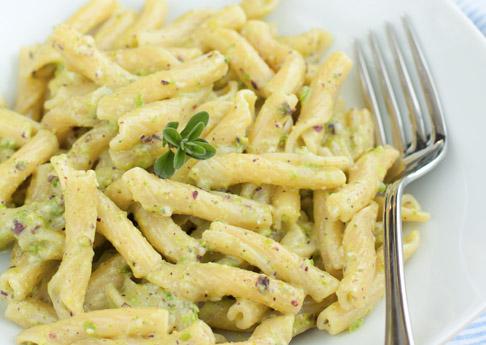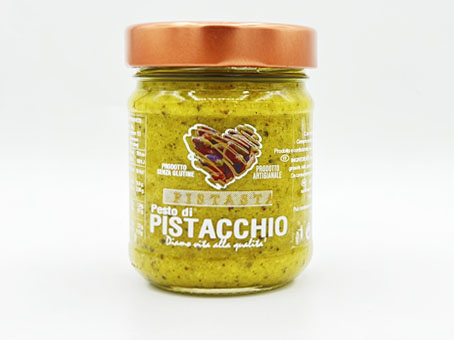 ---
The most natural pesto
Ready to pour on pasta and make your palate taste the flavors of Sicily.
The Pistachio Pesto celebrates the exquisite blend of fragrant freshness of pistachio and a few simple wholesome ingredients (such as, for example, nutmeg, salt and pepper), all selected for you to stand out the true flavor of pistachio.
The Pistachio Pesto is ready to be poured on just drained pasta (like Pennette) .
For a better use, you can add some salted water (where you cooked the pasta) to dilute the pesto.
With a jar of 190 grams you can dress up to 1 kg of pasta.
The processing of this pesto is completely handmade and performed in Bronte. Constants controls guarantee the quality of this product.
Ingredients: Pistachio 60%, sunflower oil, salt, pepper, nutmeg and dietary fiber.
Ne ho provato tanti di marche diverse ma i vostri prodotti sono eccezionali, sono i migliori in assoluto.

Capozucchi
22-01-2021
5/5
Ottima

prodotti di alta qualita .ne sono veramente soddisfato sia salato che zuccherato. Anche il prezzo e buono. allora approfitatene patrizio

pizzeria royal
20-01-2021
5/5
ottimo per tutto.

Gutes Pesto, damit kann man ganz einfach tolle Pasta Gerichte herstellen.

Questo pesto è ottimo, un condimento alternativo di una bonta' unica! Complimenti!

con questo facciamo delle ottime lasagne

napolitano
15-01-2021
5/5
Perfeto

Concetta Maria
13-01-2021
5/5
Ottima qualità. Il pesto risulta delicato e non unto. Complimenti!

Usato sulla pasta e' veramente gustoso

Ideale per paste e lasagne

molto soddisfatta! Prodotto ottimo

pizzeria royal
11-01-2021
5/5
unico al mondo